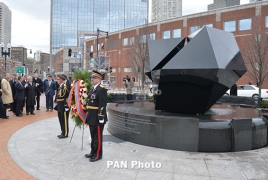 April 7, 2018 - 16:20 AMT
PanARMENIAN.Net - The reconfiguration of the Abstract Sculpture at the Armenian Heritage Park on the Greenway will take place on Sunday, April 8, North End Waterfront reports.
This annual event is symbolic of all who were pulled away from their country of origin and came to these shores, establishing themselves in new and different ways. The Charles G. and Doreen Bilezekian Fund, an endowed fund of Armenian Heritage Park, supports the annual reconfiguration.
On April 21, the Massachusetts Armenian Genocide Commemoration Committee will be honoring the Armenian history at the Park.
The next day on April 22, the Massachusetts Coalition to Save Darfur invites all to participate in the Walk Against Genocide. The Walk will begin at the Holocaust Memorial and closes at the Park with speakers at both sites.
May 6 is World Labyrinth Day! People in 35 countries world-wide will be walking as "One at 1pm", a global initiative of The Labyrinth Society. An introduction to walking a labyrinth will be led by Armineh Mirzabegian, M.D. Following the walk will be a reception to view the 2018 configuration of the Abstract Sculpture.