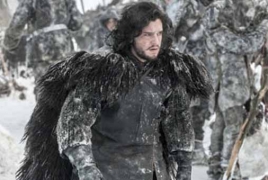 April 9, 2018 - 16:27 AMT
PanARMENIAN.Net - "Game of Thrones"' has finally finished famous epic battle after 55 nights, Metro reports.
The fantasy show is famous for its epic battle scenes so "Game of Thrones" fans will be pleased to hear that this one took 55 nights to film.
The HBO hit show is well known for its exhilarating showdowns like the Battle of Bastards and Hardhome episodes – so obviously the bar has been set pretty high for season eight's battle scene.
Jonathan Quinlan, an assistant director who has worked on 20 episodes of the show to date has shared a photo of a card thanking the cast and crew, after completing the battle scene presumable involving dragons.
The picture of the card, which has now been removed but was obtained by Watchers on The Wall, reads: 'This is for the Night Dragons.' 'For enduring 55 straight nights. For enduring the cold, the snow, the rain, the mud, the sheep shit of Toome and the winds of Magheramorne.
When tens of millions of people around the world watch this episode a year from now, they won't know how hard you worked.
'They won't care how tired you were or how tough it was to do your job in sub-freezing temperatures. They'll just understand that they're watching something that's never been done before. And that's because of you.'
The famous Battle of the Bastards, episode which aired in season 6, only took around 27 nights to film so that should give an indication of how good this episode may be.