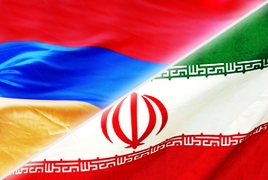 April 10, 2018 - 11:47 AMT
PanARMENIAN.Net - Iran has been a fairly marginal player in the South Caucasus, but both Armenia and Azerbaijan are competing to draw it into the region, Eurasianet.org says in a fresh article.
On its heavily fortified border with the Islamic Republic of Iran, Armenia is developing a new strategy to overcome decades of economic isolation. But a bit to the east, on its own border with Iran, Azerbaijan is endeavoring to thwart Yerevan's plans, the article says.
Last December, Armenia opened a free economic zone (FEZ) in its southernmost city of Meghri, on the Iranian border. The zone aims to take advantage of the Iranian market and position Yerevan as a broker between Tehran and the Eurasian Economic Union, the Russia-led trade organization of which Armenia is a member.
The trade could be mutually beneficial: The Islamic Republic has long expressed interest in expanding trade links to Russia via the EEU.
Trade between Armenia and Iran has been growing annually, reaching $211.4 million in 2017.
Agreement on the construction of a rail link between the two countries was approved by both governments in 2009. Three years later, Yerevan granted the Dubai-based Rasia FZE Investment Company a 50-year concession by the Armenian government to build and manage the 305-kilometer line. By late 2013, the company had developed a feasibility study for the project, estimating it to cost $3.5 billion.
The project failed to take off, however, after aggressive lobbying by Baku.
"In 2016, after the Iranian government and China held negotiations to construct a new railway between Iran [and] Armenia, Azerbaijan (unofficially) threatened to freeze its loans to Iran," Fuad Shahbazov, a political analyst based in Baku, said in emailed comments.
In January, Tehran accepted a $500 million loan from Baku to construct a 205-kilometer railway from Rasht to the Azerbaijani border (known as the Rasht-Astara line). Then in March, the foreign ministers of Iran, Turkey, Georgia, and Azerbaijan all met in the first-of-its-kind quadrilateral meeting.
The Rasht-Astara deal, signed between Azerbaijan Railways and Iran Railways, will see Azerbaijan rent the railway line for 15 years, and the terminals for 25 years. It aims to increase bilateral trade between Iran and Azerbaijan from 600,000 tons to 5 million tons per year. Tt does appear to give Azerbaijan a lead in the competition for Iranian transit.