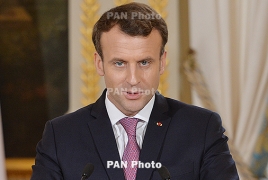 April 24, 2018 - 10:44 AMT
PanARMENIAN.Net - French president Emmanuel Macron on Tuesday, April 24 sent a message to his Armenian counterpart Armen Sarkissian in which the French leader said that the lesson of the Genocide concerns everyone.
On Tuesday, April 24, Armenians worldwide are commemorating the 103rd anniversary of the Genocide which began in the Ottoman Empire in 1915 and continued until 1923. Some three dozen countries, hundreds of local government bodies and international organizations have so far recognized the killings of 1.5 million Armenians in the Ottoman Empire as Genocide. Turkey denies to this day.
"We remembers April 24, 1915 in Constantinople and the massacre of 600 Armenian intellectuals which marks the beginning of the first genocide of the 20th century," Macron said.
"We will never forget the men, women and children who perished on the roads of exile from hunger, cold and exhaustion."
According to Macron, the remembrance of the Genocide and the significance of the lessons it teaches concerns everyone.