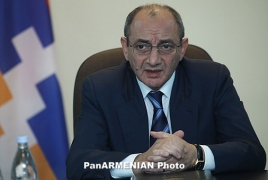 April 24, 2018 - 11:22 AMT
PanARMENIAN.Net - The year of 1915 made it to the history of the Armenian people as the year of the Armenian Genocide, Nagorno Karabakh (Artsakh) president Bako Sahakyan said in his message on Tuesday, April 24.
On Tuesday, April 24, Armenians worldwide are commemorating the 103rd anniversary of the Genocide which began in the Ottoman Empire in 1915 and continued until 1923. Some three dozen countries, hundreds of local government bodies and international organizations have so far recognized the killings of 1.5 million Armenians in the Ottoman Empire as Genocide. Turkey denies to this day.
On 24 April the entire Armenian nation bows before the memory of the Genocide martyrs.
"It is a tribute to our 1.5 million compatriots, innocent children, elderly people and women, intellectuals, state and political figures and ordinary people who fell victim to the Ottoman regime only because of their nationality," Sahakyan said.
"Hundreds of thousands of people became refugees leaving their homes and finding shelter in different corners of the world. Our people managed to survive this bloody catastrophe, build new homes, develop their native land and defend it, celebrating great victories. The guarantees of these victories today are the two free, independent and sovereign Armenian republics that thanks to joint efforts and the dedication of our hardworking and creative people, our sisters and brothers from the Diaspora, are steadfastly moving towards a reliable future.
"The Genocide is a severe pain and open wound of the entire Armenian people, which obliges us to always be on alert and vigilant, do everything possible for the continuous development and strengthening of the independent Armenian statehood. To be firm, consolidated and united, believe and rely on our own strength, considering national interests and values above everything else. This is the only way of our people's progress, this is the most important lesson of the Armenian Genocide.