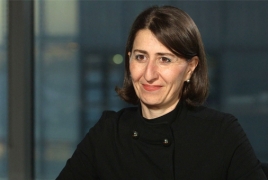 April 24, 2018 - 11:09 AMT
PanARMENIAN.Net - Premier of New South Wales Gladys Berejiklian will head an impressive list of dignitaries attending the National Armenian Genocide Commemoration Evening at The Concourse in Chatswood on Tuesday, April 24, the Armenian National Committee of Australia reports.
On Tuesday, Armenians worldwide are commemorating the 103rd anniversary of the Genocide which began in the Ottoman Empire in 1915 and continued until 1923. Some three dozen countries, hundreds of local government bodies and international organizations have so far recognized the killings of 1.5 million Armenians in the Ottoman Empire as Genocide. Turkey denies to this day.
Berejiklian is the grandchild of Armenian Genocide survivors, and will be at the event to honour the 1.5 million victims who were massacred by Ottoman Turkey in 1915 – a crime that remains unpunished 103 years later.
The Premier of Australia's largest state will be joined by Federal Member of Parliament for North Sydney and Chair of the Australia-Armenia Inter-Parliamentary Union, Mr. Trent Zimmerman. Also in attendance will be Mr. Jason Falinski, Federal Member for Mackellar, and the Hon. Kristina Keneally, recently elected Senator for New South Wales.
From New South Wales State Parliament, Mr. Jonathan O'Dea MP and the Hon. Walt Secord MLC will be in attendance as Chair and Vice-Chair of the NSW Armenia-Australia Parliamentary Friendship Group (respectively), in addition to the Hon. Reverend Fred Nile and Ms Felicity Wilson MP.
Mr. Christos Karras, Consul General of Greece in Sydney, will be in attendance representing Her Excellency the Ambassador of Greece to Australia Ekaterini Xagorari. Deputy Consul General of Germany in Sydney Mr. Klaus Steitz, and Deputy Consul General of the Russian Federation in Sydney Mr. Nikolay Vinogradov will also be in attendance. Greece, the Russian Federation and Germany have all recognised the Armenian Genocide, with Germany acknowledging its own complicity in the genocide as an ally of Turkey during the First World War.
Over 100 leaders of the Armenian-Australian, Greek-Australian, Assyrian-Australian, Jewish-Australian, Arab-Australian, Indian-Australian, Chinese-Australian and Indigenous-Australian communities will also be among special guests.
The National Armenian Genocide Commemoration Evening will feature a keynote address by New York Times bestselling author Mr. Chris Bohjalian, who will discuss the continuity between the Armenian Genocide and the Jewish Holocaust. The program will also feature Guest Speaker Dr. Maria Armoudian, professor at the University of Auckland, who will discuss the links between New Zealand and the Armenian Genocide.
The doors at The Concourse open at 7PM, and the official programme will begin at 7:30PM. The event is organised by the Armenian Genocide Commemorative Committee.