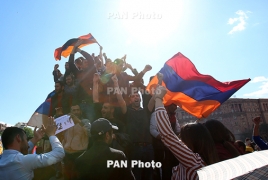 April 24, 2018 - 12:03 AMT
PanARMENIAN.Net - When a leader is deposed by street protests in any Russia-allied post-Soviet country, analysts from Washington to Moscow jump to geopolitical conclusions faster than you can say "George Soros." But sometimes, as in Armenia these past several days, government-toppling protests are just government-toppling protests, British journalist and writer on the Caucasus Thomas de Waal says in a fresh article about the latest developments in Armenia.
On April 23, Serzh Sargsyan resigned as Armenia's prime minister under pressure from mass civil unrest, led mainly by young people, in the capital, Yerevan. The streets of the city turned into an exhilarating carnival of people power that surprised most Armenians.
"But we should not expect this to have geopolitical repercussions beyond Armenia's borders, nor should we see it as a signal of Russian decline or as a prompt for potential Russian intervention. Sargsyan's downfall is not about geopolitics. At most, it is a sign that post-Soviet regimes are not as secure as they look from a distance and that the region's old regimes are perfectly capable of crumbling peacefully without any push from the outside," the expert says in an article published on the Foreign Policy magazine.
"Armenia is a difficult country to characterize. It does not fit into a neat international category. It is small, with only 3 million people, but its far-flung diaspora, from Boston to Beirut, keeps it on the map. It's an ally of Russia but with a strong connection to California and the U.S Congress through its diaspora. Despite being overwhelmingly Christian, it has a good relationship with the Islamic Republic of Iran."
De Waal says you may never know Sargsyan's real motivation because on April 23 he resigned as prime minister, less than a week after taking the job and in the face of mass street protests.
"This was all unexpected, even to the protestors themselves. They do not have any formal organization and barely any representation in parliament. Their de facto leader, Nikol Pashinyan, is a former newspaper editor who does not lack courage or ideas but who is mostly untested in high politics," he says.
"This was a rejection of Sargsyan for sure. But it is worth pointing out that, within the limits of the one-party system he sat atop of until recently, Sargsyan had done a fairly good job in recent times. He made some good appointments and diversified Armenia's foreign policy away from complete reliance on Russia. His prime minister, Karen Karapetyan — who had the job a couple of weeks ago and looks set to get it back — delivered 7 percent economic growth and greater investment. A new Comprehensive and Enhanced Partnership Agreement was signed between Armenia and the European Union last year to balance its membership of Vladimir Putin's Russian-led Eurasian Economic Union.
"We shouldn't look at the events in Armenia, then, through a geopolitical prism. They are decidedly not a rejection of Russia. Armenia looks out at two closed borders, with Azerbaijan and Turkey — a result of an ongoing 30-year-old conflict over the territory of Nagorno-Karabakh. The country's military alliance with Russia stems from that and is deemed essential to national security. (The new opposition wants to lessen Russia's economic hold over the economy, but that is a different matter.) Nor does Pashinyan, the de facto opposition leader, dissent from the consensus line of the political establishment, which is opposed to making concessions over Karabakh, which Armenians fought over with Azerbaijan and have held since 1994."