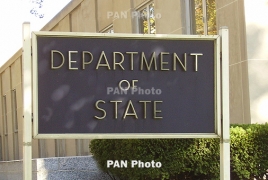 April 24, 2018 - 17:44 AMT
PanARMENIAN.Net - The United States is ready to work with the Armenian government which will replace the office of former prime minister Serzh Sargsyan, RIA Novosti cited a representative of the State Department as saying.
"We are grateful to prime minister Sargsyan for his many years of service and his contribution to the strong partnership between the U.S. and Armenia," the representative said.
"We expect that his successor will be named as a result of a democratic process carried out in a spirit of transparency in accordance with the laws and international obligations of Armenia. We look forward to working closely with the new government."
Sargsyan resigned as Armenia's prime minister under pressure from mass civil unrest, led mainly by young people, in the capital, Yerevan, on Tuesday, April 23.