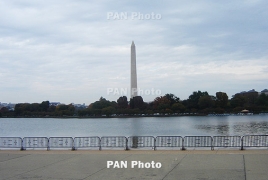 April 24, 2018 - 18:40 AMT
PanARMENIAN.Net - Capitol Hill to the White House, campus to churches and community centers, the Greater Washington D.C. Armenian American community will be hosting a broad range of events commemorating the Armenian Genocide, culminating in the annual April 24 Armenian Genocide protest, to be held at the Turkish Ambassador's residence, the site of last year's brutal beatings by Turkish President Recep Tayyip Erdogan's security detail and supporters, The Armenian Weekly reports.
The Capitol Hill Armenian Genocide Observance, hosted by the Congressional Caucus on Armenian Issues with the support of the Embassy of Armenia, Republic of Artsakh (Nagorno-Karabagh) Representative in the U.S., and Armenian American groups is set to have over 25 members of Congress joining with Armenian Americans from across the U.S. urging proper White House and Congressional reaffirmation of the Armenian Genocide. The event will take place Wednesday, April 18 with a 6 p.m. reception and 7 p.m. program to be held at the U.S. Capitol Visitor Center North Auditorium.
The annual Armenian Genocide Candle-Light Vigil at the White House, organized by the Armenian Youth Federation (AYF-YOARF) "Ani" chapter in coordination with the local Armenian Genocide Commemorative Committee of Greater Washington D.C., is set for April 21st. Presentations of poetry, song, and speeches—including a special performance of "1915" by Hip Hop artist Marc 2Ray—will be honoring the past and calling on the President to end U.S. complicity in Turkey's Armenian Genocide denial.
Genocide and Holocaust scholars Dr. Deborah Dwork and Dr. Greg Stanton will be joining Kate Nahapetian, Executive Director of the Armenian Legal Center for Justice and Democracy (ALC) for a panel discussion on "Reconciliation After Oppression: The Future of the Armenian Struggle," moderated by Dr. Christopher Simpson. The April 17 event is organized by Armenian students at Georgetown University and the Knights of Vartan.
Soorp Khatch Armenian Apostolic Church and St. Mary's Armenian Church, along with their affiliated Hamasdegh Armenian School and Shnorhali Armenian School, will be hosting their annual commemorative events on Sunday, April 22.
The Armenian Genocide Commemorative Committee of Greater Washington is comprised of: Soorp Khatch Armenian Church – Der Sarkis Aktavoukian, Board of Trustees, Ladies' Guild; Armenian National Committee (ANC) of Greater Washington; Armenian Revolutionary Federation (ARF) Sebouh gomideh; Armenian Relief Society (ARS) "Satenig" chapter; AYF-YOARF "Ani" Senior chapter and "Sevan" Junior chapter; Hamasdegh Armenian School; Hamazkayin Cultural and Educational Association; Homenetmen Athletic & Scout Organization, Soorp Khatch Armenian Church Men's Club, Soorp Khatch Armenian Church Senior Citizens. The coalition supports and promotes all programs dedicated to Armenian Genocide commemoration in the Greater Washington D.C. area.
Buses to the Capitol Hill Commemoration, White House vigil and April 24 protest at Sheridan Circle are provided from Soorp Khatch Armenian Church. Limited seating is still available. For reservations, please email anc.gw@anca.org or Galin Tanashian at 240-274-9302.