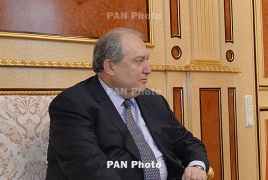 April 25, 2018 - 12:24 AMT
PanARMENIAN.Net - Armenian president Armen Sarkissian announced on Wednesday, April 25 that he is launching consultations with parliamentary and extra-parliamentary forces.
Opposition leader from Yelk bloc, founder and head of Civil Contract party Nikol Pashinyan leads the campaign #RejectSerzh against former president Serzh Sargsyan's appointment as prime minister, and against his premiership after he was already appointed to the post.
Sargsyan on Monday resigned from the prime minister's post, and Pashinyan is now seeking the appointment as prime minister by the National Assembly of what he calls "the people's candidate," the formation of a temporary government and snap parliamentary elections.
Pashinyan and Karapetyan were scheduled to meet on early Wednesday but the meeting was canceled. Pashinyan urged demonstrators to resume the rally, with the protesters paralyzing traffic on several major avenues and streets in Yerevan and gathering at the Republic Square.
In a statement, Sarkissian said the civil campaign opens new opportunities "for the recovery of political life and the deepening of democracy" in Armenia.
"It will raise the reputation of Armenia and the Armenian people in the world if we are able to find the right and weighed solutions," the president said.
The dialogue between the sides is extremely important, he added.
"I know about the declarations by campaign leader Nikol Pashinyan and acting prime minister Karen Karapetyan about canceling the negotiations slated for this morning," Sarkissian said.
"As I am concerned about the current situation, I am starting consultations with parliamentary and extra-parliamentary forces today to discuss the ways to overcome the challenges facing the country."