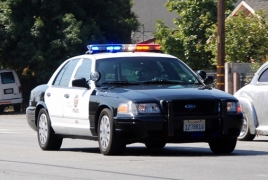 April 27, 2018 - 10:46 AMT
PanARMENIAN.Net - A 19-year-old man and his sister were shot at while driving in the Panorama City neighborhood in Los Angeles, and he believes it may be because he was flying flags on his truck for Armenian Genocide Remembrance Day, KABC-TV reports.
Harry Nalbandyan was struck by gunfire. The bullets narrowly missed his sister, who was in the passenger seat.
He says while he was driving on the freeway, someone pulled up alongside his truck.
"He rolled down his window and I rolled down my window just a little and we look at each other and out of nowhere he just starts firing," Nalbandyan said. "He fired eight shots at me."
Family members say it hurts that such violence happened to their loved ones on Tuesday, April 24, when the Armenian community throughout the world was remembering the victims of the Armenian Genocide of 1915.
"It saddens me because some people don't have the knowledge and don't educate themselves to know what yesterday really was - 1.5 million people killed in 1915," said Serg Nalbandyan, Harry's brother.
"And it hurts that they don't respect that, just because they see an Armenian flag they think we are representing ourselves in the wrong way or wrong manner or showing off in a bad way."
Harry says it's a miracle that under the barrage of gunfire he and his sister were not gravely wounded or killed.
On Tuesday, Armenians worldwide are commemorating the 103rd anniversary of the Genocide which began in the Ottoman Empire in 1915 and continued until 1923. Some three dozen countries, hundreds of local government bodies and international organizations have so far recognized the killings of 1.5 million Armenians in the Ottoman Empire as Genocide. Turkey denies to this day.