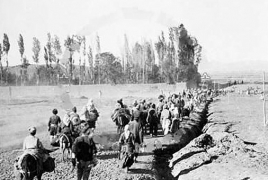 April 30, 2018 - 16:31 AMT
PanARMENIAN.Net - Hundreds of people have gathered in Providence to commemorate the Armenian Genocide, The Associated Press reports.
Descendants of those Armenians and many more who fled the oppressing Ottoman government gathered in Saints Sahag and Mesrob Church Sunday, April 29 to reflect on the genocide.
The Providence Journal reports the ceremony also celebrated the 100th anniversary of the 1918 founding of the First Republic of Armenia.
The current Turkish government refuses to recognize the extermination of the Armenians as Genocide.
Author and grandson of Armenian Genocide survivors Chris Bohjalian spoke at the event. The Vermont resident says "Turkey tried to destroy us, and Turkey failed."
Members of Rhode Island's congressional delegation also attended.