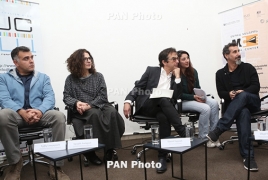 May 2, 2018 - 11:27 AMT
PanARMENIAN.Net - Several of the most prominent Diaspora-based artists have addressed the thousands of Armenians protesting the ruling authorities in the streets of Yerevan and across the republic, expressing support and encouraging them to continue in the same spirit.
The street campaign against the Armenian authorities is in full swing across Yerevan and the rest of the Republic on Wednesday, May 2 after the parliament failed to elect opposition leader Nikol Pashinyan as the country's new prime minister.
Tankian said earlier that he is going to join the protesters soon.
"What we observed over the last two weeks was a clear victory for the cause of a truly democratic process in Armenia," System Of A Down frontman Serj Tankian said in a Facebook post, signed by himself, filmmaker Atom Egoyan, actress Arsinee Khanjian, actor Vahe Berberian and director and screenwriter Eric Nazarian.
"Not only did the Prime Minister resign as a result of your beautiful peaceful protests, but we heard various conflicting positions broadcast to a packed Republic Square. This was amazing, to turn our Parliament into a public forum for the first time. Today, history has been made!"
According to the message, Pashinyan clearly was not going to be voted at prime minister on Tuesday, but the movement for change "will continue and gather even more force as we head to a much needed public election."
"The youth and citizenry of Armenia have collectively raised the bar worldwide for peaceful protests. Your solidarity and unity of purpose has blazed a new trail for true democratic change in Armenia," the artists said.
"We urge this election to happen as soon as possible, for this is the only means to insure a functioning government that will genuinely represent the people. Please do not give into anger and frustration and maintain your positive stance. Victors don't lose their cool. Justice will prevail. We are with you."
The founder and head of Civil Contract party and lawmaker from the Yelk bloc, Pashinyan leads a street campaign against the ruling authorities, which has seen thousands of Armenians taking to the streets in massive protests.
Former prime minister Serzh Sargsyan was forced to resign on April 23, and Pashinyan is now seeking the appointment as prime minister by the National Assembly of what he calls "the people's candidate", - i.e. himself - the formation of an interim government and snap parliamentary elections.
Pashinyan has promised to rid Armenia of corruption and poverty.