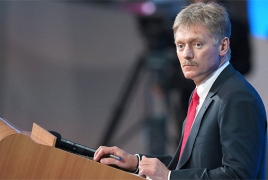 May 3, 2018 - 18:11 AMT
PanARMENIAN.Net - Moscow hopes that the allied and constructive relations between Russia and Armenia will remain in line with the foreign policy course of both Moscow and Yerevan, press secretary of the Russian President Dmitry Peskov told reporters on Thursday, May 3.
A massive campaign against the Armenian authorities was in full swing across Yerevan and the rest of the republic on Wednesday after the parliament failed to elect opposition leader Nikol Pashinyan as the country's new prime minister on Tuesday.
"We continue to hope that all the processes in Armenia will remain in the constitutional and legal framework," Peskov said.
"We wish our Armenian friends to settle the political situation as soon as possible.
The founder and head of Civil Contract party and lawmaker from the Yelk bloc, Pashinyan leads the street campaign against the ruling authorities, which has seen thousands of Armenians taking to the streets in massive protests in the past several weeks.
Former prime minister Serzh Sargsyan was forced to resign on April 23, and Pashinyan is now seeking the appointment as prime minister by the National Assembly of what he calls "the people's candidate", - i.e. himself - the formation of an interim government and snap parliamentary elections.
Pashinyan has promised to rid Armenia of corruption and poverty.