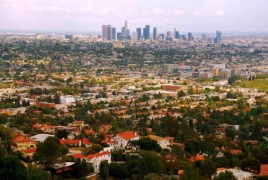 May 8, 2018 - 12:12 AMT
PanARMENIAN.Net - It was a celebration of hope in Glendale ahead of a highly anticipated election in Armenia. People rallied in support of candidate for prime minister, Nikol Pashinian, KABC says.
"We definitely want to show support for what happens back home because inevitably we are connected to it," Joseph Kazazian said.
Pashinian is rallying support from people across the globe and celebrities such as Armenian-American rock star Serj Tankian from the band System of A Down. Former president and elected Prime Minister Serzh Sargsyan stepped down due to massive protests.
Opposition supporters said Sargsyan was like a dictator and the ruling Republican Party, a monopoly. That's the complete opposite of Pashinian, they said.
"If he doesn't get the vote, we'll be back here on our feet every day protesting until something changes and we're going to win," Maral Kurdian said.
Now the younger generation is passionate about the rebirth of their home country.
"People are even thinking about uprooting what they've set up here to give Armenia a fresh start because they're moving to a new Armenia," Kazazian said.
But Pashinian isn't prime minister yet. Despite being the only candidate, he did not get enough votes from parliament during the first election. On Tuesday, May 8, he'll need at least one-third of lawmakers' votes.
"Even though we're far away from them, we love our motherland with our souls and hearts...we're doing everything we can to support," Gayane Melikyan said.