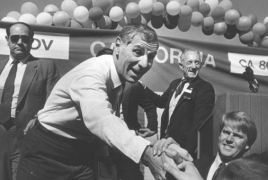 May 10, 2018 - 10:35 AMT
PanARMENIAN.Net - George Deukmejian, a perennially popular two-term Republican governor of California who built his career on fighting crime, hardening the state's criminal-justice stance and shoring up its leaky finances, died Tuesday. He was 89, The Los Angeles Times reports.
Deukmejian, who was elected governor in 1982 and 1986, died at his home in Long Beach, according to a statement from his family.
During his many years of public service, including 16 years as a state legislator and four as state attorney general, Deukmejian sponsored the successful "use a gun, go to prison" bill, oversaw development of a workfare program for welfare recipients and negotiated with the Democratic-controlled Legislature to create an $18.5-billion, 10-year transportation plan.
The son of Armenian immigrants, Deukmejian had years of public office on his resumé before winning election as governor and emerging as the most prominent Armenian American politician in the United States.
His identification with Armenians, who were victims of genocide during the early 20th century at the hands of the Ottoman Turks, would infuse his life with a determination to ensure the rule of law.
News of Deukmejian's death brought praise from all corners of the state's political community. The California Republican Party called him "one of the great governors of the last century," and Gov. Jerry Brown noted that he had "friends across the political aisle."
"Gov. Deukmejian's humility and passion for doing what was best for California is a model for all who seek public service," said Allan Zaremberg, president of the California Chamber of Commerce and Deukmejian's former legislative affairs secretary.
Never, during a career that spanned three decades, did he waver from his law-and-order crusade or his passion for public safety.
It was something much more profound than these boyhood memories — the Armenian genocide in the early 20th century — that was the source of his passion for public order and motivated him to seek a political career.
Both Deukmejian and his wife, Gloria, also an Armenian American, had been raised on stories about the genocide. Deukmejian's aunt was killed by Ottoman Turks, and his parents fled to America to escape persecution. During his entire political career, Deukmejian attempted to get official recognition for the genocide.
Deukmejian's Armenian loyalties also led to one of the more surprising moves he made as governor: the 1986 decision to use his considerable influence to urge the University of California Board of Regents to immediately divest UC's vast teacher and employee retirement funds from firms that did business in South Africa, which was then ruled by a white-minority government that imposed apartheid rule against the majority blacks.