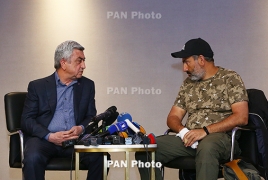 May 10, 2018 - 11:25 AMT
PanARMENIAN.Net - In the 24 hours before former Armenian prime minister Serzh Sargsyan quit on April 23, he had telephone calls with officials in Moscow, a diplomatic source said on condition of anonymity, according to Reuters.
Sargsyan was forced to resign amid massive protests that paralyzed traffic across the country for a week. Two weeks later on may 8, the Armenian parliament elected opposition leader Nikol Pashinyan as the country's new prime minister after weeks of political standoff, a civil campaign against the ruling authorities and massive protests in Yerevan and across the country.
In the days before protesters overthrew Armenia's veteran leader, Russian officials had high-level phone contacts with the protest leaders and the ruling elite that was clinging to power, according to three people briefed on the discussions.
In the streets, Pashinyan's supporters were encouraged to display only Armenian national symbols - a conscious break from the Ukraine revolt which angered Moscow by adopting the European Union flag.
On the other side of the stand-off, Sargsyan, Armenia's ruler for a decade, was in touch with Russian officials as he fought for survival, according to a diplomatic source who spoke on condition of anonymity.
In the intervening 24 hours, Sargsyan had intensive discussions with his own allies and officials. They discussed the possibility of implementing a state of emergency, which would give security agencies greater powers to use force against the protesters.
"We had two options: parliament could introduce a state of emergency in the country or Serzh Sargsyan could resign," said Eduard Sharmazanov, a lawmaker with the ruling Republican Party and deputy speaker of parliament.
"Introducing a state of emergency would not solve the problem, but postpone it."
In the same time period, while the internal discussions were going on, Sargsyan was in touch with Russia about what do to next, said the diplomatic source.
"He weighed all the pros and cons and, as far I know, he also had some talks with people in Moscow," the diplomatic source said.
A businessman close to Pashinyan said his contacts in the Republican Party told him Sargsyan had conversations with Russian officials during this period.
Soon afterwards, Sargsyan quit, opening the way for his opponents to take power.