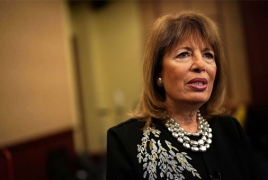 May 10, 2018 - 12:09 AMT
PanARMENIAN.Net - U.S. Representative Jackie Speier (D-CA), Co-Chair of the Congressional Armenian Caucus, speaking at a full hearing of the influential U.S. House Armed Services Committee on Wednesday, May 9, underscored the importance of applying the lessons of the Armenian Genocide in preventing new atrocities across the Middle East, reported the Armenian National Committee of America (ANCA).
Noting that her own family members have been victims of the Armenian Genocide at the beginning of the 20th Century, Rep. Speier said: "I think that unless we help other countries understand the consequences of genocide, and how it could be prevented, our moral leadership is truly challenged."
"We want to thank Congresswoman Speier for sharing her family's experience as survivors of the Armenian Genocide and encouraging her colleagues on the Armed Services Committee to ensure that the lessons of this genocide are leveraged to help prevent future crimes against humanity," said ANCA Executive Director Aram Hamparian. "Her efforts today reflect and reinforce the growing bi-partisan support for the Genocide Prevention Resolution (H.Res.220) - including among her legislative colleagues who have traditionally supported Ankara but who now understand that we must, as Americans, end our official complicity in Turkey's denials."
H.Res.220, spearheaded by Representatives Dave Trott (R-MI) and Adam Schiff (D-CA) with the support of Congressional Armenian Caucus leadership, has 118 cosponsors to date. This genocide prevention measure stresses that "proper commemoration and consistent condemnation of the Armenian Genocide will strengthen our international standing in preventing modern-day genocides," and, building upon the 2016 official U.S. designation of an ISIS genocide against Middle East minorities, specifically calls for the following: "[T]he United States, in seeking to prevent war crimes, crimes against humanity, and genocide against Christians, Yezidis, Muslims, Kurds, and other vulnerable religious and ethnic groups in the Middle East, should draw upon relevant lessons of the United States Government, civil society, and humanitarian response to the Armenian Genocide, Seyfo, and the broader genocidal campaign by the Ottoman Empire against Armenians, Assyrians, Chaldeans, Syriacs, Greeks, Pontians and other Christians upon their biblical era homelands."