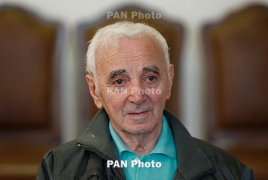 May 12, 2018 - 11:18 AMT
PanARMENIAN.Net - Legendary French-Armenian crooner Charles Aznavour has thanked Armenians for showing the nation's humanismto the world after hundreds of thousands of people took to the streets to protest against the ruling authorities and forced prime minister Serzh Sargsyan to resign.
"I would like to congratulate you on how you have been able to move from one situation to another, without bloodshed, without brutality, without violation of our values a, solving problems as if it was easy. This has surprised, astonished and made governments of other countries think," Aznavour said.
"We – Armenians from the Diaspora – were extremely proud to show the world that there is a small country whose citizens demonstrated exceptional wisdom and humanism, proving that violence is not the only path to peace and agreement. We have had far too many misfortunes in our history and now we are opening a page of happiness, wisdom and love."
According to the musician, Armenians have succeeded in proving that people in Armenia have a clear conscience and that unity is and will always remain a priority.
"We, Armenians, managed to show that that the words "people," "Homeland," "flag," "culture," "religion" and "family" are part of our values, that every Armenian has equal rights and freedoms in his country," he said.
"I'm probably the most French Armenian in the world, but I'm proud of my Armenia and I never hid it.
"Thank you to the Armenian people for showing the world our humanism: Armenia is great with its values. Let us be a model for those who are different and those who are less open to change. Let us continue on this path because I am convinced that it is the best for the future of our people and nation.
"I thank you all for giving me this pride. Long live the Republic of Armenia!"