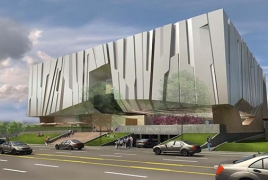 May 16, 2018 - 11:12 AMT
PanARMENIAN.Net - The Armenian American Museum Governing Board has announced three major community-wide events following Glendale City Council's historic approval including Museum Day on August 5, Telethon on September 9, and Gala Banquet on December 9.
The Armenian American Museum is a landmark project governed under the united leadership of ten leading Armenian American cultural, philanthropic, and religious non-profit institutions. In April 2018, the Glendale City Council agreed to negotiate the final Ground Lease Agreement for the Museum's Downtown Glendale site with a lease term of up to 95 years at $1 per year, marking a major milestone for the project.
"We are excited to announce the Armenian American Museum's upcoming community-wide events and urge our community members to mark their calendars and participate to celebrate and support the project," stated Museum Executive Committee Chairman Berdj Karapetian.
The following community-wide events have been scheduled:
On Museum Day, the Armenian American Museum Day will bring together hundreds of community members for a special ceremony and celebration to mark the historic day at the future site of the cultural and educational center in Downtown Glendale's Central Park.
The Telethon will be live broadcasted from Los Angeles and streamed online worldwide to educate the public on the Armenian American Museum and raise awareness for the historic project. Proceeds will benefit the construction of the Museum.
The Gala Banquet at the prestigious Ray Dolby Ballroom in Hollywood will be the signature event of the year for the Armenian American Museum. The inaugural event will bring together donors, supporters, public officials, and community leaders for a memorable evening to celebrate and support the landmark project.