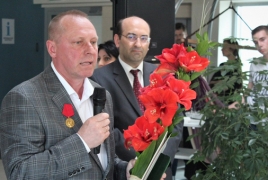 May 16, 2018 - 13:09 AMT
PanARMENIAN.Net - A Lithuanian serviceman, Captain Saulius Paliulis has been honored by the Armenian Defense Ministry for saving the life of an Armenian officer from an Azerbaijani axe-murderer back in 2004.
Ambassador of Armenia to Lithuania, Latvia and Estonia Tigran Mkrtchyan presented the Vazgen Sargsyan medal to Paliulis who saved Hayk Makuchyan after Azerbaijan's Ramil Savarov had already killed another Armenian officer, Hayk Margaryan.
The four were attending a NATO-sponsored English-language course in Budapest. On February 19, 2004 Safarov murdered Margaryan by decapitating him with an axe. In April 2006 Safarov was found guilty of murder by the Budapest City Court, and was sentenced to life imprisonment, with the possibility of conditional release after 30 years. The court found that Safarov had intended to kill two Armenian participants at the course on the anniversary of the beginning of the conflict between Armenia and Azerbaijan over Nagorno Karabakh. After the Court of Appeal upheld this judgment in February 2007, Safarov began serving his sentence in a Hungarian prison.
In August 2012 the Hungarian Minister of Justice approved Safarov's extradition to Azerbaijan with a view to his serving his sentence there (under the Council of Europe Convention on the Transfer of Sentenced Prisoners 1983). However, a few hours after Safarov was transferred on August 31, 2012, he was pardoned by the Azerbaijani President and set free. He was also promoted to major, awarded eight years' salary arrears and offered a flat.
The Vazgen Sargsyan medal is awarded to officers and ensigns who have had significant input in the areas of army building, development of Armenia's military-educational system and military-patriotic education of the young generation, to servicemen who have shown personal valor in abolishing dangers to the lives of servicemen and in protecting the borders of the motherland during mandatory service, and to individuals who have had considerable input in establishing and strengthening the Armenian Army.