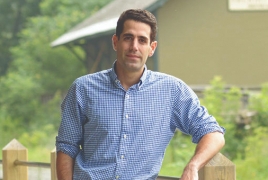 May 17, 2018 - 17:27 AMT
PanARMENIAN.Net - Democrat Don Boyajian, a municipal and environmental lawyer and resident of the village of Cambridge, recently announced he is entering the race for State Assembly District 107. In doing so, he leaves the race for New York State's 21st Congressional District, Troy Record reports.
"After speaking with thousands of residents across Upstate New York, I have realized that one of the most important ways to make a real difference in our communities is to effect change right here at home," said Boyajian in a news release. "Ensuring that every child has access to high-quality public education, addressing the heroin and opioid epidemic, creating stable new jobs, and protecting our environment all starts within our state government."
Boyajian is a third-generation native of Upstate New York with roots in a farming family. His family settled in Rensselaer County a century ago as immigrants fleeing the Armenian Genocide. He serves as a municipal and environmental lawyer for local municipalities, providing legal help to towns and villages across Rensselaer, Washington, and Columbia counties. With a background in environmental law, Boyajian is well-versed in the critical water contamination issues currently faced by the Village of Hoosick Falls and many other local communities.
Prior to joining his family's law firm, Boyajian clerked at the U.S. Attorney's Office (NDNY), the New York Office of the Attorney General, and the Securities and Exchange Commission. His previous public service also includes work for former Congressman Mike McMahon. Boyajian is an avid sportsman and a proud graduate of the La Salle Institute in Troy.
Boyajian said he launches his bid for the 107th Assembly Seat with over $200,000 in cash on hand and endorsements from a broad range of local leaders, including Assemblywoman Carrie Woerner, Assemblyman Anthony Brindisi and Melissa Shea, Chair of the Washington County Democratic Committee. He is currently the only Democratic candidate for the seat.
"I strongly endorse Don Boyajian to represent the 107th District in the New York State Assembly," said Woerner in the news release. "As an Upstate New York native and Washington County resident, Don understands the needs of our local families, business owners, and farmers. As a lawyer experienced in the public and private sectors, Don also has the practical knowledge and skills to effect real change in state government to meet those needs. I am highly confident that Don is the best candidate to represent residents of the 107th Assembly District, and that his experience and priorities will shape our community for the better."
"We are so excited and supportive to have Don run for the 107th Assembly District," added Washington County Democratic Committee Chair Melissa Shea. "He is a strong candidate and a team player who understands the importance of Democrats working together to provide real advocacy for working people throughout Upstate New York."
Former Republican Rensselaer County Legislator Jake Ashby recently beat out Democratic Rensselaer County Legislator Cindy Doran in a special election for the 107th district assembly seat, after it became vacated in January, when former Republican Assemblyman Steve McLaughlin left the seat to be sworn-in as the next Rensselaer County Executive.
Ashby will need to run for the 107th district assembly seat again in the general election this November.