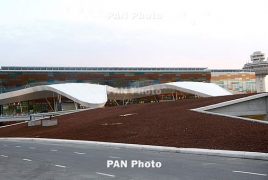 May 22, 2018 - 18:28 AMT
PanARMENIAN.Net - Bloomberg has prepared a feature about how the Eurnekian family, which emigrated from Armenia in the early 20th century and is the second-richest in Argentina, and whose business expanded from South America to Europe and is eyeing India and Africa.
Martin Eurnekian is adjusting to life as a public company CEO. The 39-year old nephew of Eduardo Eurnekian, 85, heads Corporacion America Airports SA, which operates airports across Latin America, including one on the Galapagos Islands. It's expanded to Europe and is eyeing India and Africa. He's had a difficult introduction to the markets with the shares tumbling 35 percent since the IPO earlier this year. His family's holding company also owns energy assets, a semiconductor maker and real estate. The family emigrated from Armenia in the early 20th century and is the second-richest in Argentina.
In an interview, Eurnekian discussed taking a family company public, plans for other units and why he's optimistic about South America's largest economies. The following excerpts from the interview have been condensed and edited.
How does the family manage its varied interests?
So far my uncle, who's the founder, has been leading strategy and the big decisions of the company. But the great thing about being a family company is that we are fairly diversified. The family members can run different businesses so we are not bumping into each other every day, which sometimes creates tension in family-owned businesses.
What was your first role within the family business?
I basically started working when we started the airport business. I was 18 at the time. So I started with the company and spent the last 20 years doing everything you could imagine. I went to university in Argentina. I studied computer science and engineering. I went away for a semester to Australia but I studied in Argentina. Most of my career I went to university at night so I could work in the day.
You feel optimistic about Brazil?
More than a feeling. It's a fact. We had two bad years for our airports here in Brazil with passenger drops in 2016 and 2017 and in the last four months we've been growing. Passengers are a great measure of economic sentiment. We will see growth in the next few years.
And Argentina's prospects more generally?
It's a great bet for investors. I'm very positive on what will happen in Argentina. It will always be Argentina, it will always be a country that has more volatility than Denmark. But I think the prospects are very good. Everybody was confident in the technical abilities of the government and was worried about the political capabilities of this government. I think they did great on both.
In Argentina we are champions of arguing and rearguing about what policies are best for the country. But they chose a path and they are sticking to it and it is giving results. We are seeing a lot of sectors in Argentina growing. Our sector is booming. Passengers have been at historical records for Argentina last year and January was the best-ever month for passengers in Argentina as well.
They created a political party that is probably now the only real political party in Argentina. They were able to win the mid-term elections and create a great atmosphere. I don't consider there is competition for this government in the next presidential elections.
Is the family involved in politics?
No. Only business.