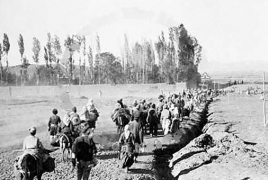 May 28, 2018 - 18:12 AMT
PanARMENIAN.Net - The expected vote on recognizing the Armenian Genocide was not on the Israeli Knesset's agenda for this week as of Monday, May 28, The Jerusalem Post reports.
Knesset Speaker Yuli Edelstein pulled the item from the agenda, his spokeswoman said, to avoid an embarrassment to the Knesset, because it was unclear there would be a majority in favor. Edelstein has repeatedly voiced his support for recognition over the years, including last week.
The vote on recognizing the Armenian Genocide, in which 1.5 million Armenians were murdered by the Ottoman Empire during World War I, was set for Tuesday, after a motion to do so by Meretz chairwoman MK Tamar Zandberg was approved 16-0.
Zandberg accused Edelstein of putting politics ahead of morality, dismissing the Knesset Speaker's words in favor of her motion.
"Holding this debate, with a historic vote to recognize, is the right thing to do. Some preferred politics to doing the right thing," Zandberg said at a Meretz faction meeting Monday. "The Knesset should do what it promised. This is a matter of historic justice."
Recognizing the Armenian Genocide, she argued, "shouldn't hurt ties with any country. This is a basic moral issue.... We, the Jewish people, know the value of recognizing national tragedies."
The Foreign Ministry has not made any official statements about the Knesset recognizing the Armenian Genocide, including during last week's vote, unlike in previous years, when it openly opposed such motions.