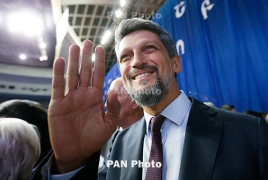 May 31, 2018 - 12:59 AMT
PanARMENIAN.Net - Turkish lawmaker of Armenian origin from the pro-Kurdish People's Democratic Party (HDP) Garo Paylan is planning to visit Yerevan in the near future and meet with Prime Minister Nikol Pashinyan, Akunq.net reports.
Commenting on the latest developments in Armenia, Paylan said the quick success of the movement headed by Pashinyan was a pleasant surprise for him.
According to him, during his last visit to Yerevan, he met with the future prime minister and other members of Yelk bloc.
Paylan visited Armenia in September to participate in the conference "Mutual Trust, Unity and Responsibility".
Paylan recalled that Pashinyan and his supporters considered themselves "a very modest party," but he told them that he was closely following their activity and programs, and that there was much in common between the ideology of the Armenian bloc and that of the HDP.
"I also told them that they will succeed one day, and that I will help them in every possible way. But I did not expect success to come so fast," he said.
"Six months after my visit, they made a peaceful revolution in Armenia, forcing the authorities to listen to the voice of the oppressed, the poor and those in need. I am planning to come to Armenia very soon, after the elections in Turkey, and personally meet Mr. Pashinyan."
Tens of thousands of Armenians took to the street to protest against the ruling authorities for several weeks in April-May.
As a result of the civil disobedience campaign, former Prime Minister Serzh Sargsyan was forced to resign, while the parliament elected Pashinyan, than an opposition lawmaker and protest leader, as the country's new PM.