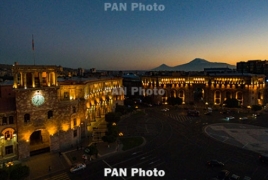 June 4, 2018 - 17:43 AMT
PanARMENIAN.Net - Fitch Ratings has affirmed the Armenian city of Yerevan's Long-Term Foreign- and Local-Currency Issuer Default Ratings (IDRs) at 'B+' with Positive Outlooks and Short-Term Foreign-Currency IDR at 'B'.
The affirmation considers Armenia's weak institutional framework for local and regional governments (LRGs) amid the city's satisfactory fiscal performance, supported by steady transfers from the central government. The ratings also factor in the city's capital status and zero debt. The Positive Outlook reflects that on the sovereign ratings.
KEY RATING DRIVERS
Institutional Framework (Weakness)
Yerevan's ratings are constrained by those of Armenia (B+/Positive), in particular the country's institutional framework for LRGs, which Fitch assesses as weak. It has a shorter track record of stable development than many international peers. Weak institutions lead to lower predictability of Armenian LRGs' budgetary policies, narrow their planning horizon and hamper long-term development plans.
Fiscal Performance (Neutral)
Fitch expects the city to continue posting a satisfactory fiscal performance with a single-digit operating margin in 2018-2020 (2017: 2.9%).
"We project improvement of the city's operating margin on the back of economic growth projected over the medium term in Armenia. We also expect Yerevan to run a close to balanced budget in 2018-2020, in line with historical results (2017: surplus 0.7%)," Fitch said.
The city's capex stood at 7.3% of total spending at end-2017, in line with the previous year's low point when it dropped to 7.0% from an average of 19.5% in 2013-2015.
"We project a gradual improvement in capex realisation up to 8%-9% of total expenditure in 2018-2020. Most of the city's capex is funded by central government transfers and donor grants, supplemented by asset sales," the experts say.
Debt and Other Long-Term Liabilities (Neutral)
As of end-2017, the city remained free from any debt or guarantees. Yerevan has maintained debt-free status since forming a community in 2008. Statutory provisions of the national legal framework guiding debt or guarantees issuance restrict the city from incurring significant debt. The city's liquidity position improved, with cash holdings increasing to AMD1.9 billion as of end-2017 (2016: AMD1.4 billion). The city holds its cash in treasury accounts as deposits with commercial banks are prohibited under the national legal framework.
Economy (Weakness)
Yerevan is likely to benefit from the projected economic recovery in Armenia over the medium term. In its macro forecast, Fitch expects full-year growth of the national economy of about 4% in 2018-2019. As the country's capital and most populated city, Yerevan is Armenia's largest market with a developed services sector. At the same time, Yerevan's wealth metrics remain relatively modest in the international context, as Fitch estimates Armenia's 2017 GDP per capita at USD3,928 using market exchange rates.
Management and Administration (Neutral)
Yerevan's administration demonstrates adherence to a prudent fiscal policy aimed at balanced budgets, while central government remains a key funding source for the city. Due to institutional limitations, the city's planning horizon is rather short - bound to one fiscal year, which hinders the administration's forecasting ability and complicates strategic planning and investments allocation.