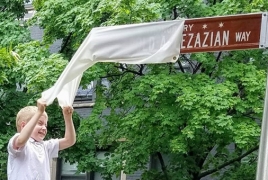 June 12, 2018 - 16:54 AMT
PanARMENIAN.Net - An honorary street naming has been held in Chicago's Uptown in front of the Bezazian Library. The new sign was named in honor of Lt. Harold A. Bezazian, a Armenian-American man who was awarded a Purple Heart and Bronze Star for his service in WWII, Lincoln Square Patch reports.
Bezazian's father funded the Bezazian Library in memory of his son, who loved reading and learning.
Bezazian family members joined Ald. James Cappleman for the unveiling outside the library.
Cappleman spoke about Harold's "selflessness" as a soldier, and his determination as the son of an Armenian immigrant who came to the U.S. with little money.
Harold grew up in Uptown, attended Oberlin College, and graduated from Columbia University with a degree in journalism. He worked as a reporter for the Chicago Times, and joined the army in 1941. He was discharged as overage, but enlisted again after the attack on Pearl Harbor, according to the Collumbia University Roll of Honor.
Harold said it was better that he re-enlisted and go to war than another man who would leave behind a wife and children, said library advocacy group Friends of Bezazian.
Harold was killed in the Philippines by enemy rifle fire while leading his platoon on a rescue mission for soldiers who had become separated from the rest of his unit, his family said. He was 33 years old.
A plaque sits in Bezazian Library that reads, "This branch library is a fitting and living memorial to the life of an outstanding young American, born and reared in Uptown Chicago, who loved books and learning, and who had dedicated his life to a writer's career until he volunteered for military service and gave his life for his country."