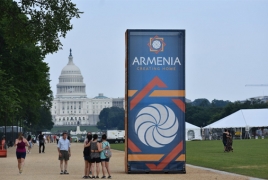 June 22, 2018 - 12:27 AMT
PanARMENIAN.Net - Armenian President Armen Sarkissian will attend the opening of the 2018 Smithsonian Folklife Festival which this year focuses on Armenia and Catalonia, the Armenian Assembly of America (Assembly) said in a statement on Thursday, June 21.
As part of the festival featuring 'Armenia: Creating Home', the country's culture, music, art, food and wine, the Assembly and the Armenia Tree Project (ATP) are sponsoring the opening reception to welcome the President, among other dignitaries. The oversubscribed reception will take place on the evening of June 27 at the National Museum of African American History and Culture on the National Mall in Washington D.C. in the shadow of the Festival.
"The Armenian Assembly and the Armenian Tree Project are honored to sponsor the opening reception. We strongly encourage family and friends to visit D.C. to experience Armenia: Creating Home in our nation's capital," Assembly President and ATP founder Carolyn Mugar stated.
"Having worked with the Smithsonian over the past year and more, it is truly an honor and privilege to welcome President Armen Sarkissian on his first official presidential visit to Washington, D.C. to be part of this once-in-a-lifetime event," said Assembly Co-Chair Anthony Barsamian. "Armenia is celebrating a transformative moment in its history and this is an exciting time to share Armenia's rich culture and hospitality on the world stage in Washington, D.C.," she added.
"Armenia is not merely a small country in the Caucasus...it is one of the wellsprings of world civilization, on the same level as Mesopotamia, Egypt, Greece, and Italy. Whoever bakes or eats bread, makes or drinks wine, uses metal tools or jewelry, or wears clothing and shoes is tied by invisible bonds of cultural inheritance to Armenia. In this sense we are all Armenians," stated former Ambassador Michael Gfoeller, who was previously the Deputy Chief of Mission stationed in Armenia.
This year's Folklife Festival will offer a glimpse into 'Armenia: Creating Home', celebrating Armenia's centuries of culture greatly influenced by its surroundings, heritage, and hospitality. The Folklife Festival will feature Armenian artisan craft traditions, wine, food, art, and music and will demonstrate "the importance of economic and cultural sustainability in the face of change and how these practices create home - both in concept and in form."
The Festival will take place from June 27 to July 1 and then from July 4 to July 8. More than 1 million people are expected to visit the exhibition and festival, and more than 8 million people worldwide to access the Smithsonian Folklife's website and learn about Armenia.