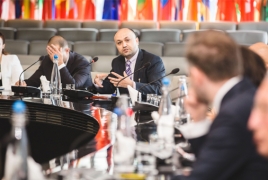 June 25, 2018 - 12:02 AMT
PanARMENIAN.Net - Executive Director of Business Armenia Armen Avak Avakian and (now former) Head of Donor Relations Arman Udumyan have recently participated in the series of events known as Emerging Europe held in the head office of the European Bank for Reconstruction and Development in London, UK.
The representatives of the Armenian investment promotion agency took part in the EBRD reception held in Westminster Palace in the British capital. The reception organized for the heads of investment promotion agencies in Central and Eastern Europe was co-hosted by the UK Minister for International Trade and Minister for London.
A number of meetings and cooperation program discussions were held with the representatives of partner organizations from different states in the course of the 2-day gathering. The Business Armenia team presented Armenia's investment climate, the new government's policy on boosting interest among foreign investors and the experience of the foundation.
"This was a unique opportunity to meet with representatives of 22 partner organizations in one place, which otherwise would be either impossible or too costly and time-consuming. We flew to London with interesting ideas and came back with preliminary agreements of effective cooperation," said Udumyan.
Within the scope of EBRD business meetings, the Emerging Europe Award Ceremony was held, with Business Armenia nominated as a "National Investment Promotion Agency of the Year" along with 23 organizations in Central and Eastern Europe. The nominations were based on the EBRD surveys on activities of investment promotion agencies in 23 countries.
"In addition to the meetings, we find the EBRD award methodology, according to which the choice has been made, very important. By strengthening the capabilities of Business Armenia, our organization will aim to be the best next year," Avakian said.
More than 100 representatives of Armenian state agencies, business and international institutions gathered at the first ever UK-Armenia Business Forum on June 7, organised by British Embassy Yerevan in partnership with the Armenian-British Business Chamber.
The UK business representatives left Armenia with positive impressions and some concrete projects to follow up.