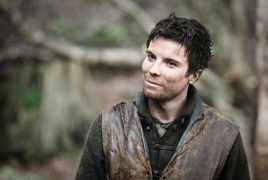 June 25, 2018 - 17:13 AMT
PanARMENIAN.Net - "Game of Thrones" star Joe Dempsie, who plays Gendry, may have inadvertently suggested the role his character with play in eighth and final season of the hit fantasy show, Express reports.
Gendry sailed away in season three, only to come back again in season seven of "Game of Thrones" after being sought out by Jon Snow (played by Kit Harington).
He was last seen sending a message to Daenerys Targaryen (Emilia Clarke) to warn her about the White Walkers after the Wight Hunt went awry on the HBO drama.
And now, it looks as though Gendry could be playing a key role in the ultimate series of the fantasy epic.
Joe revealed to Metro US earlier in June that he "only wrapped on that [Game of Thrones] three weeks ago".
The actor also said he had begun on the series after finishing shooting on spy drama Deep State, meaning he'd been filming for a grand total of seven months.
With such a long filming stint, it looks as thought Gendry could really come into his own in the eighth season.
The blacksmith loathes the Lannisters, knowing they were behind the death of his father Robert Baratheon (Mark Addy), so will he enact revenge on them?
He could have some competition though, as plenty are baying for the blood of current ruler Cersei Lannister (Lena Headey).
Joe also opened up on the tighter security surrounding the final instalment of the programme.
He spilled: "There are some parts that do feel different. Funnily enough, the most palpable difference is just in terms of security.
"I mean security in terms of plot and scripts and any information pertaining to where we might be shooting at any given time.
"During the whole course of season seven and season eight I have never laid eyes on a shooting schedule. Your filming dates are on a need to know basis.
"You don't get hard copies of scripts anymore. They are all on this special app. Which are triple locked. The level of security has upped massively."
Nikolaj Coster-Waldau has also spoke out about the tight restrictions when it comes to cast looking at their scripts.
In an interviews at Cannes Film Festival, he said: "We actually get the scripts and we shoot the scene.
"We only have it digitally, and when you've done the scene it just vanishes. It's like Mission: Impossible—'This will self-destruct'."
Speculation has been rife about what will happen in the last season, and with fans desperate to get their hands on leaks it's no surprise the show has clamped down on security.
That hasn't stopped some of the cast giving subtle hints at what to expect.
Daenerys star Emilia has spoken out on reading her last scene, she told Vanity Fair: "It f****d me up.
"Knowing that is going to be a lasting flavor in someone's mouth of what Daenerys is ...."