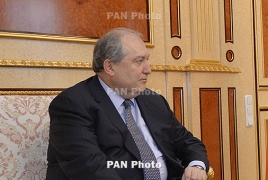 July 5, 2018 - 16:53 AMT
PanARMENIAN.Net - Living by the Constitution and laws is not only a necessity and a duty, but also an advantage of a free person, President Armen Sarkissian said in a message on the Constitution Day of Armenia on Thursday, July 5.
Sarkissian said the Constitution is a symbol of the legitimacy of the state. However, he added, the best symbol of any state is the law-abiding and legally protected citizen.
"The Constitution is the fundamental document that, as a guarantor of the further development of our independence, affirms the rule of law, legality, justice and a system of values based on the power of the people," he said.
According to him, people can take pride in not only the fact of the undeniable existence of the Republic of Armenia, which has chosen an independent, democratic way of development, but also the growing rating of the country on the international arena.
"The constitution and will of the people are interrelated. Today, the people are the full-fledged creators of their own lives and the development agenda for the country. This agenda should be deprived of the predominance of emotionality and be based on respect for the Constitution - a pledge for a free, democratic and strong Armenia," Sarkissian said.