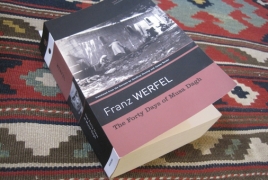 July 6, 2018 - 14:49 AMT
PanARMENIAN.Net - American author, political analyst, and social activist George Weigel has included "The Forty Days of Musa Dagh" by Franz Werfel in the list of books he recommends for summer reading, published on The Boston Pilot.
"Before leaving on a flight to Australia in 2001, I asked the editor and critic Norman Podhoretz, "What are the great long novels you think I haven't read?" He immediately named Werfel's story of the Armenian Genocide during World War I, which easily got me from Los Angeles to Sydney," Weigel said.
"The story is gripping, but above all, "Musa Dagh" is a fine study in character -- especially the qualities required of leaders under grave circumstances. Which gives it a certain contemporaneity. "
In 2015, Edna S. Friedberg, a historian at the United States Holocaust Memorial Museum wrote an article about the novel and the impact it had on members of Jewish youth groups marshalling the courage to revolt.
According to her, in Warsaw and many other ghettos across occupied Poland, Jews organized clandestine schools and libraries, smuggling in books and other cultural materials in collective acts of spiritual resistance. Arguably the most popular book in the Warsaw Ghetto was the novel "The Forty Days of Musa Dagh".