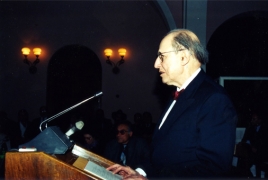 July 12, 2018 - 11:27 AMT
PanARMENIAN.Net - Henry Morgenthau III, a longtime friend of the Armenian people, who dedicated himself to honoring the memory of his grandfather, Ambassador Henry Morgenthau, passed away on July 10, report the Armenian Assembly of America and Armenian National Institute.
In countless public presentations, in television appearances, and in numerous publications, Henry Morgenthau III recounted his recollections of his grandfather with whom he lived in New York City. He was honored on many occasions by Armenian organizations across the country.
The Armenian National Institute and the Armenian Assembly of America shared the distinction of organizing Morgenthau's trip to Armenia in 1999 where he was honored by the National Academy of Sciences, the Armenian Genocide Museum, and the City of Yerevan.
Morgenthau was joined by his sons Dr. Henry Ben Morgenthau and Kramer Morgenthau, as well as Armenian Assembly President Carolyn Mugar, longtime personal friend of Henry from the time of his residence in Cambridge, Massachusetts, and Kitty Dukakis, wife of the former governor of the state of Massachusetts and a board member of the U.S. Holocaust Memorial Museum.
"My grandfather frequently told me that his attempts to save Armenian lives at the time of the Genocide and the establishment of the Near East Relief effort were the achievements that meant the most to him," Morgenthau explained.
Ambassador Morgenthau served as President Woodrow Wilson's emissary to the Ottoman Empire during World War I.
With Henry Morgenthau III's endorsement, in 1996 the Armenian Assembly of America established the Henry Morgenthau Award for Meritorious Public Service which is given out to public officials in recognition of their contributions in defense of human rights. Recipients of the Assembly's Morgenthau Award include the first U.S. Ambassador to the Republic of Armenia Harry Gilmore and U.S. Ambassador John Evans who publicly called for official U.S. recognition of the Armenian Genocide.
A friend also of the Armenian National Institute (ANI), Henry Morgenthau III encouraged the organization with symbolic gifts of $1915 and joined with supporters and Armenian Ambassador to the U.S. Tatoul Markarian in the opening of the ANI Library, to which he contributed his grandfather's library.
Henry Morgenthau III was an author and television producer. His family history, Mostly Morgenthaus, won the 1992 National Jewish Book Council prize for best memoir. He was a fellow at the Joan Shorenstein Center on the Press, Politics, and Public Policy at the Kennedy School of Government of Harvard University. Morgenthau's shows on Boston's public television station, WGBH, won Peabody, Emmy, UPI, EFLA and Flaherty Film Festival awards. Morgenthau also updated his grandfather's memoir, Ambassador Morgenthau's Story, with a lengthy postscript about the Ambassador's life in the 2003 edition of the book published by Wayne State University Press.
Henry Morgenthau III's brother, Robert Morgenthau, also a vocal advocate for Armenian Genocide recognition, served as District Attorney for New York County in Manhattan. Their father, Henry Morgenthau II, was Secretary of the Treasury under President Franklin D. Roosevelt.
"The Armenian people have lost a true friend with Henry's passing. His grandfather Ambassador Henry Morgenthau played a critical role as the first opponent of genocide on the world stage as he defended the Armenian people. With his first-hand familiarity of his grandfather's legacy, Henry stood with the Armenian people throughout his life, always ready to step up immediately to lend his gravitas in support of all essential issues for Armenians," stated Armenian Assembly President Carolyn Mugar.
"Despite his advancing age, Henry continued to participate in Armenian Genocide commemorative and advocacy events. He was honored at the community-wide Centennial Genocide Commemoration in Washington, D.C. in 2015, where he walked on stage surrounded by his children and grandchildren. The Morgenthaus are legendary within the Armenian community, who are grateful that this noted family validated their traumatic history as a people by informing the entire world," she continued.
Carolyn added: "Henry was exemplary in carrying on Ambassador Morgenthau's commitment to genocide recognition and prevention. We all honor him for his total resolve to relentlessly stand up and speak out against injustices of the past. He used his voice to deepen people's recognition of the importance of acknowledging the truth in history and thereby using this truth to prevent the recurrence of atrocities."