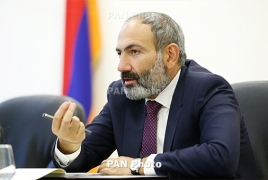 July 13, 2018 - 12:34 AMT
PanARMENIAN.Net - Armenian Prime Minister Nikol Pashinyanhas called on NATO to send a message to neighbouring Azerbaijan that the international community will not accept any attempt to resolve the conflict in Nagorno Karabakh by force.
"This conflict should be resolved only through a peaceful way, but unfortunately from the first days of becoming Armenian Prime Minister I see that Azerbaijan is increasing its aggressiveness towards Armenia," Pashinyan said in an interview with Euronews.
"I thank that now we see the situation changing because this aggressive policy is not only against Armenia, but also also against democracy because now Armenia is a really democratic country."
The PM said he feels that Azerbaijan has a fear that its own people will be inspired from the Armenian processes to initiate democratic changes in Azerbaijan.
"It would be very useful if NATO would send a strong message to Azerbaijan that any attempt to solve the Nagorno Karabakh conflict using force will meet strong reaction from the international community."
Pashinyan was participating in the NATO summit in Brussels, where he told reporters that Azerbaijan has become more aggressive after the revolution in Armenia which resulted in a change of power.