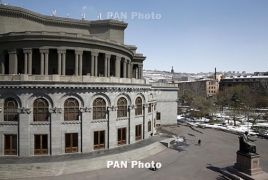 July 19, 2018 - 13:26 AMT
PanARMENIAN.Net - Famous vlogger Nuseir Yassin, better known by his nickname Nas Daily, is currently in Armenia, exploring the country's traditions, culture and the daily life.
Nuseir's one-minute Facebook videos showing life from all the corners of the world now garner millions of views.
After posting a video about the chess tradition in the country, Nuseir has now published another one about Levon, a 65-year-old man, who is Armenia's most popular roller skater.
The blogger says Levon "has no age and he will never die.
In the video, Levon is seen roller skating throughout the city, with the highway and city squares serving as his skatepark.
He wears no helmet, has no fear of accidents and no fear of police, and people love him.
"Everyone is my friend," Levon says in the video.
"This is how Levon is living every day of his life and it's so different from the way I and many people live their life. And I love that," says Nuseir.
In his previous one-minute video, the vlogger weighed in on education, more particularly chess classes in the country.