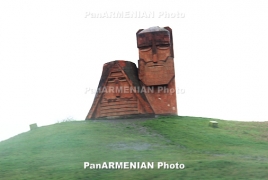 July 26, 2018 - 11:00 AMT
PanARMENIAN.Net - Minister of Foreign Affairs of Artsakh (Nagorno Karabakh) Masis Mayilian received a congratulatory message from Foreign Minister of the Pridnestrovian Moldavian Republic (Transdniestrian Moldovan Republic) Vitaly Ignatyev on the 25th anniversary of the establishment of the Foreign Ministry of Artsakh.
"The Foreign Ministry of the Republic has gone through an uneasy path, fighting for the recognition of the right to its own statehood and actively defending the interests of the people of Artsakh. Today, the NKR MFA is a reliable and united team of hardworking and responsible diplomats, capable of solving the most complex foreign policy tasks," the message reads.
"Pridnestrovie highly appreciates the close cultural and spiritual ties that are growing day by day between our countries, whereby the Ministries of Foreign Affairs have the leading role in maintaining them."
Earlier, Mayilian received a congratulatory message from his Abkhazian counterpart Daur Kove on the same occasion.