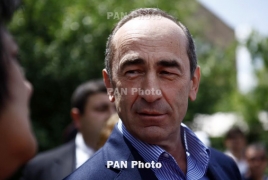 July 28, 2018 - 00:27 AMT
PanARMENIAN.Net - Former president Robert Kocharyan was apprehended for two months on Friday, July 27 after being charged with overthrowing the constitutional order of Armenia back on March 1, 2008.
According to the Special Investigation Service, Kocharyan overthrew the constitutional order of Armenia by prior agreement with other persons.
The investigator had submitted a petition to the court of general jurisdiction of the first instance of Yerevan to name detention as a preventive measure against the ex-President.
Kocharyan was summoned for interrogation on Thursday as a witness in an investigation into the post-presidential election crackdown on March 1, 2008. Eight civilians and two police officers were killed immediately after the election of a new President 10 years ago.
Secretary-General of the Collective Security Treaty Organization (CSTO), Colonel-General Yuri Khachaturov, who commanded the Yerevan garrison of the Armenian Armed Forces on March 1, 2008, has also been charged with overthrowing the constitutional order of Armenia
The Investigation Service announced earlier that it had charged Armenia's defense minister at the time of the March 1, 2008 incident, General Mikayel Harutyunyan, with illegally mobilizing the country's Armed Forces against peaceful demonstrators, calling it a "breach of constitutional order."