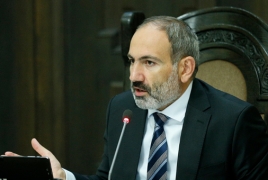 July 28, 2018 - 12:41 AMT
PanARMENIAN.Net - The Armenian side is not going to make anything in the atmosphere of intimidation when it comes to the Nagorno Karabakh conflict, Prime Minister Nikol Pashinyan said in an interview with Al Jazeera.
Although Pashinyan insists on a peaceful solution for the ongoing conflict, Pashinyan believes Azerbaijan may have more on its plate than a decades-old debacle with Armenia.
"I am sure that the Azerbaijani government is trying to distract the attention of its own people from its own domestic troubles and problems, to the Karabakh problem. That is why I am saying that any aggressive move against Armenia is an aggressive move against democracy in our region," says Pashinyan.
"We have real will and real desire to solve this conflict peacefully," he continues. "We are ready for negotiations. But I want to insist that we aren't going to make anything in the atmosphere of intimidation. It is important to create an atmosphere of peace".
In the same interview, the PM said Armenia is ready to establish diplomatic relations with Turkey without preconditions.