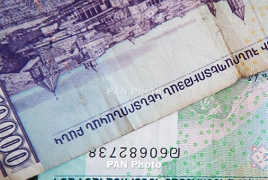 August 30, 2018 - 13:53 AMT
PanARMENIAN.Net - The government on Thursday, August 30 approved a draft decision that would criminalize offering or taking bribes ahead of elections.
The National Assembly is yet to approve the bill.
Moreover, not only fines will be imposed, but also prison terms will be handed for bribery and vote buying.
According to the draft decision, accepting, demanding or asking money, property, property rights, securities or any other privilege, or accepting an offer or promise of bribes for voting in favor of or against a party or a candidate, or refusing to participate in the elections, or voting more than once or instead of another person will henceforth be punished with a fine or a prison term.