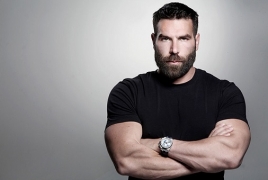 September 5, 2018 - 16:11 AMT
PanARMENIAN.Net - The Azerbaijani Foreign Ministry has handed a note of protest to William R. Gil, the U.S. charge d'affaires in Azerbaijan, over a trip to Artsakh (Nagorno Karabakh) by famous American millionaire of Armenian origin, poker player and "King of Instagram" Dan Bilzerian, foreign ministry spokesman Hikmet Hajiyev has said.
"Gil was summoned to the Foreign Ministry, where he was handed a note addressed to the U.S. State Department in connection with the illegal trip of Dan Bilzerian, a citizen of that country, to the occupied territories of Azerbaijan," Hajiyev said according to Interfax.
The Azerbaijani Foreign Ministry said in the statement that while in Artsakh, Bilzerian "was engaged in the propaganda of the illegal regime, unlawfully acquired firearms and, in provocative purposes, opened fire to the positions of the Azerbaijani Armed Forces."
Bilzerian, the social media celebrity with the lavish lifestyle," has said that he thinks the arrest warrant issued by Azerbaijan was "politically motivated".
"They only issued the warrant for my arrest, and nobody else on the trip," he said. "I think it's because I am a public figure and they want to try to make an example out of me."
Bilzerian has vowed to fight the charges, but says he's focused on his work at Ignite - a producer of cannabis products that are sold in licensed dispensaries in states where its sale is legal - where is CEO.
He said he has "no interest in ever going to Azerbaijan."
Bilzerian, who is of Armenian descent, arrived in the capital city of Yerevan on August 27. He and his brother took part in a naturalization ceremony where they became Armenian citizens. Per the laws of the country, he also registered for military service.