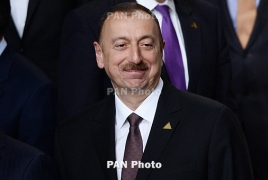 September 17, 2018 - 11:59 AMT
PanARMENIAN.Net - The son of Azerbaijani President Ilham Aliyev has joined the army but will serve in Baku rather than on the contact line with Artsakh (Nagorno Karabakh), Armenian Prime Minister Nikol Pashinyan said at a rally in support of Hayk Marutyan's bid in elections to the Yerevan Council of Elders.
An actor, comedian and filmmaker, Marutyan heads the bloc My Step.
Pashinyan said the Azerbaijani people do realize that while Aliyev easily escalates the situation on the frontline, his son will stay safe and other Azerbaijani soldiers will be wounded or killed.
"The Azerbaijani people should demand that Aliyev send his son to the contact line, and we'll see then if he further escalates the situation," Pashinyan said.
"Aliyev doesn't care about his soldiers, he only cares about the billions that his family possesses.
"And no Azerbaijani should believe that he (Aliyev - Ed.) wants to do anything for his homeland, but just seeks to protect everything he has looted."
According to the Prime Minister, Azerbaijani mothers cannot blame Armenia for the loss of their sons, as the Armenian side retaliates when there are no alternatives.