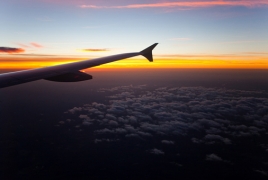 September 20, 2018 - 11:00 AMT
PanARMENIAN.Net - The Armenian National Committee of America (ANCA) has called upon the Federal Aviation Administration (FAA) to facilitate the launch of non-stop flights from the United States to Armenia – easing transit for tourists, speeding up business travel and cargo movement - while deepening the bilateral ties between two friendly nations.
In a letter shared on the eve of Armenian Independence Day, ANCA Chairman Raffi Hamparian encouraged Acting FAA Administrator Dan Elwell to engage with Armenia's civil aviation authorities on concrete steps toward this powerful new connection between the American and Armenian peoples.
Travel to Armenia marked double-digit growth over the past year, with the demand for flights from the United States to Armenia continuing to grow - driving tourism as a major engine of Armenia's prosperity. Currently, travelers from the U.S. need to purchase tickets using connecting flights on foreign carriers, often with long layovers. This effort is intended to create an effortless, convenient and speedy connection in getting from one country to the other.
"The ANCA is leading the effort to establish non-stop flights from the United States to Armenia," shared longtime ANCA leader Zanku Armenian, who has years of professional experience in aviation matters. "The time is ripe for the FAA and Civil Aviation Authorities in Armenia to create a favorable legal and regulatory environment and foster engagement with commercial stakeholders – empowering the private sector to initiate profitable non-stop flights. With a concerted effort by both governments, we are optimistic that a private air carrier will step forward to launch non-stop flights from Los Angeles or New York to Yerevan. The demand for air travel from the United States to Armenia is strong and growing. While this is an ambitious initiative by the ANCA that was started well before the recent positive changes in Armenia, the timing now is particularly favorable to establish a new dimension to the bonds between our two countries," added Armenian. "Once government hurdles are cleared, the private carrier that steps forward to establish this new non-stop route will enjoy the long-term business benefits by being a first-mover on such an opportunity. This is why the ANCA has been initiating dialogue with various U.S. federal, state and local authorities and private sector parties to advocate for this game-changing idea."
According to the FAA, "over most of the past decade, the international market has been the growth segment for U.S. carriers when compared to the mature U.S. domestic market. This international growth is shifting the geographical center of gravity for aviation in terms of arriving and departing passengers farther east, from North America (the birthplace of aviation) toward the Asia/Pacific, and the pace of this shift is accelerating. With new longer-range aircraft capabilities and an emerging middle class, more countries are seeking direct flight access to the profitable U.S. market, and they must meet the same safety oversight levels we follow in the United States."
The FAA collaborates with other federal agencies and departments and industry as well as bilateral and regional international partners to set safety and efficiency standards and to develop bilateral agreements. They also work closely with the International Civil Aviation Organization (ICAO), a specialized agency of the United Nations based in Montreal, Canada, which serves as a global forum for international civil aviation.