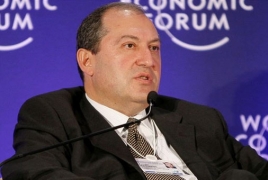 October 3, 2018 - 11:02 AMT
PanARMENIAN.Net - President Armen Sarkissian has signed decrees dismissing ministers representing the Armenian Revolutionary Federation and Tsarukyan bloc from their posts.
On Tuesday, October 2, Prime Minister Nikol Pashinyan said all the ministers from the ARF and Tsarukyan bloc - besides deputy Prime Minister Mher Grigoryan - have been relieved of their duties.
Pashinyan was addressing thousands of protesters who took to the streets in Yerevan after lawmakers from the former ruling party passed a motion, hindering Pashinyan's plans to hold snap parliamentary elections in the country.
The PM said he will resign once the decrees are signed by the President, after which the National Assembly will fail to elect a new PM twice, which, in turn, will lead to the dissolution of the parliament.
Afterwards, he will remain the acting Prime Minister and will be re-elected in the event of winning a corresponding mandate.
Earlier on Tuesday, October 2, the parliament passed a bill to allow the suspension of sessions in case of unforeseeable circumstances or in case MPs were prevented from voting. The session will resume only after the impeding circumstances are eliminated
Pashinyan told demonstrators that those who have voted in favor of the new motion are "anti-revolutionaries".
Pashinyan came to power in May after weeks of protests which forced former Prime Minister and long-time ruler Serzh Sargsyan to resign. The movement has since been called "the velvet revolution."