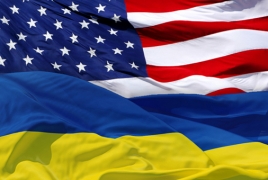 October 5, 2018 - 11:53 AMT
PanARMENIAN.Net - The U.S. Senate has backed a resolution on the 1930s-era Ukrainian famine known as the Holodomor, a move hailed by Ukrainian President Petro Poroshenko, RFE/RL reports.
The Senate passed a "simple resolution" on October 3, commemorating the 85th anniversary of the famine of 1932-33, saying that the event "should serve as a reminder of repressive Soviet policies against the people of Ukraine."
Historians estimate as many as 9 million people died in the famine, which many Ukrainians consider to have been caused by Soviet central planners as an act of genocide, aimed at wiping out Ukrainian farmers.
In the U.S. Congress, simple resolutions are nonbinding, passed by only one chamber of Congress, and don't become law. Typically, they are used by lawmakers to usually back a pet project or endeavor, or a potentially political controversial issue without forcing a more public vote.
The resolution said the Senate recognized "the findings of the Commission on the Ukraine Famine, as submitted to Congress on April 22, 1988," that Soviet leader Josef Stalin "and those around him committed genocide against the Ukrainians in 1932–1933."
Ukrainian President Petro Poroshenko hailed the resolution, writing on Facebook on October 4 that it was "another significant result of strengthening Ukraine-U.S. strategic partnership."
"We hope that the rest of the world, including the EU, and international organizations, including the United Nations, will do the same," he added.
The U.S. government has not recognized the Ukrainian famine as a "genocide," instead labeling it as a "criminal act of the Stalinist regime" against the people of Ukraine. The EU terms it an "appalling crime."
The Holodomor famine took place in 1932 and 1933 as Soviet authorities forced peasants in Ukraine to join collective farms by requisitioning their grain and other agricultural production.
Historians say the seizure of the 1932 crop by Soviet authorities was the main cause of the famine.
Along with Ukraine, at least 15 other countries have officially recognized Holodomor as "genocide."
Ukraine commemorates the event every November 28.