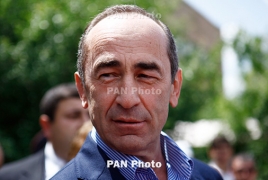 October 17, 2018 - 18:06 AMT
PanARMENIAN.Net - Second President of Armenia, Robert Kocharyan thinks that early parliamentary elections may result political monopoly in the country.
Armenian Prime Minister, Nikol Pashinyan resigned on October 16.
"In tactical terms this is an understandable behaviour; success now - at the peak of democracy. In terms of strategy I see some issues- as a politic you benefit but as a statesman you should still think if it was worth to do it now", stated Kocharyan, reports RIA Novosti.
He found it doubtful that in the state of euphoria it may be possible to elect a worthy parliament. "I don't think that forming a political monopoly is beneficial for the country", said Kocharyan.
According to him, "complete power is also a complete responsibility. Hence my opinion is the following: a certain phase is being concluded and for all of us it is a unique restart meaning that a new government, which will reflect society's current moods, will be formed. Starting from that point the new government will need to take full responsibility for everything that takes place in the country".
According to the ex-president, it "will be a one-sided parliament- a new political monopoly".
According to constitution, early elections are held after dissolution of the parliament in no sooner than 30 and no later than 45 days. In the acting Parliament Republican party has 51 mandates, Tsarukyan Alliance has 31, Yerk has 9 and Armenian Revolutionary Federation has 7 mandates.