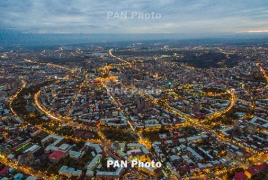 October 25, 2018 - 14:06 AMT
PanARMENIAN.Net - Business Armenia's grants specialist Bella Manoukian on Wednesday, October 24 participated in Global Enterprise Registration event organized within the World Investment Forum held in Geneva, Switzerland. During the event, Armenia received a certificate of appreciation.
The United Nations Conference on Trade and Development (UNCTAD) has monitored over 130 countries and the steps they took to ensure the clarity and transparency of business procedures. Business Armenia was highly appreciated for its input in the process. Armenia has received 10 points out of 10 and was granted the Global Enterprise Registration award certificate.
Business Armenia and the UN Development Program have launched the "E-governance as an Electronic Tool for Facilitating the Government to Attract Foreign Investment" project earlier this year, in April 2018. The eRegulations information portal of the UN Conference on Trade and Development (UNCTAD) has been implemented and as a result a number of procedures have already been simplified.
"By creating the "single window of business support", Armenia joined the Global Enterprise Registration portal which, obviously boosts the reputation of our country in the eyes of businessmen. And the award is an additional message to the investors proving that starting a business in Armenia is easy and transparent," said the CEO of Business Armenia, Armen Avak Avakian.
The World Investment Forum is a multi-stakeholder gathering at the level of Heads of State and Government, ministers, chief executive officers and principals of international organizations, designed to facilitate dialogue and action on the world's current and emerging investment development challenges. The Armenian delegation is headed by the president of Armenia Mr. Armen Sarkissian.