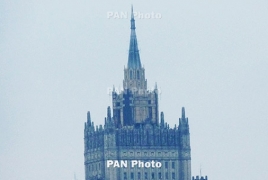 October 30, 2018 - 12:48 AMT
PanARMENIAN.Net - The Russian Foreign ministry has commented remarks by US National Security Adviser John Bolton, who visited Armenia on October 25.
Bolton said the Trump administration wants to "look at" possibilities of weapons sales to Armenia that would not violate restrictions the U.S. Congress has imposed. He made the remarks in an interview with RFE/RL on Wednesday, October 25 after he met in Yerevan with acting Prime Minister Nikol Pashinyan.
"US National Security Adviser John Bolton who visited Yerevan the other day demanded openly that Armenia renounce historical clichés in its international relations and hardly bothered to conceal the fact that this implied Armenia's traditional friendship with Russia," a Russian Foreign Ministry spokesperson said.
"He also said that he expected Nikol Pashinyan to voice initiatives on the Nagorno-Karabakh settlement after the national parliamentary elections.
"Naturally, he did not forget to advertise US weapons that Armenia should buy instead of Russian weapons."
The Foreign Ministry also offered comments on the farewell speech by former U.S. Ambassador to Armenia Richard M. Mills who, according to the Russian Ministry,"publicly instructed the leaders of the receiving country on economic policy matters and promised lavish funding to local NGOs for controlling the government."