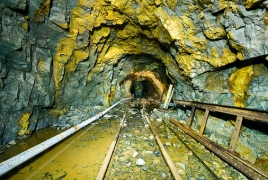 October 31, 2018 - 10:29 AMT
PanARMENIAN.Net - Chaarat Gold Holdings, the company that tried buying Centerra's Kumtor mine in the Kyrgyz Republic, has agreed to acquire Kapan gold mine in Armenia from Polymetal, one of Russia's largest gold and silver producers, Mining.com reveals.
The $55 million deal is part of Chaarat's intention of becoming a major regional player in Central Asia, with an annual production of 1 million ounces, which it aims to reach through acquisitions.
"[Mergers and acquisitions are] a vital component of our growth strategy and we are delighted to be in the process of securing this asset at what management believes is a very attractive price for Chaarat and its shareholders," Chaarat Chief Executive Artem Volynets said in a statement.
Kapan, which Polymetal bought two years ago for $38 million, is the Russian producer's smallest and highest-cost mine, accounting for just 3% of the company's total ore reserves and about 3% of its adjusted earnings in the past year.
The mine is located in the town of Kapan (population 40,000) in south-eastern Armenia, about 320 km south of the capital city of Yerevan. The area surrounding the operation hosts a number of other prospective deposits, including Polymetal's 100%-owned high-grade Lichkvaz gold deposit located roughly 70 kms from Kapan and 380 kms from Yerevan.
Polymetal, which operates in Russia, Kazakhstan and Armenia, expects a $3 million-profit from the sale, the company said in a separate statement.
Production at the Kapan mine began in 2003 and the current reserve life extends to 2023, although conversion of current inferred resources to reserves and new exploration success is likely to extend the mine life.