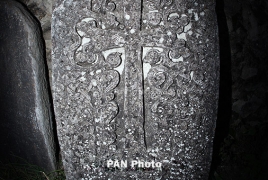 November 1, 2018 - 14:22 AMT
PanARMENIAN.Net - Zoomin.TV, a global media and entertainment company located in Amsterdam, has unveiled a video about the thousand-year-old khachkars (cross stones) in Noratus, Armenia.
The medieval cemetery is home to a large number of early khachkars located in the village of Noratus, in Armenia's Gegharkunik province, near Lake Sevan, 90 km north of Yerevan.
The video sheds some light on the history of Armenia as the world's first country to officially adopt Christianity as a state religion in 301 AD.
"Each one is different, and they are said to be the guardians of the soul. But not many of the ancient stones have survived," the video says about the khachkars.
"This is the world's largest surviving collection of khachkars, and there are some small preservation efforts so that history is not forgotten."