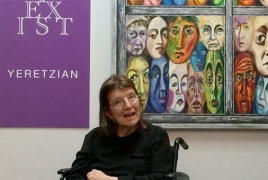 November 14, 2018 - 10:48 AMT
PanARMENIAN.Net - For months, although unable to talk or walk, Armenian American artist Seeroon Yeretzian refused to use a machine that allowed her to communicate by tracking her eye movements as they selected individual letters to form words.
Faced with no other means to communicate, Yeretzian, a former painter who was diagnosed with ALS, also known as Lou Gehrig's disease, in 2012 at the age of 60, began the painstaking process of learning how to use the device that required her to position herself and breathe just so.
At first, she used the machine — which can read out typed words — to simply communicate basic needs like what she wanted for dinner or when she had an itch that needed to be scratched.
Then friends and relatives began to hear more expressive sentences being read out by the machine. Poetry peppered what was once pure functionality.
And now, Yeretzian's collection of writings, titled "Evolution is My Revolution", will be released on Thursday, November 15 in the auditorium of the Glendale Downtown Central Librar, Glendale News Press reports.
Yeretzian will also be there.
A book of poetry she wrote before her diagnosis was released in 2012.
In 2014, the city awarded Yeretzian its Lifetime Achievement Award for the arts. The following year, her work was cited as the inspiration for the Armenian American Rose Float Assn.'s float design.